Grasmere Grassroots Goals
'We Learn and Play Through Our Values Each Day'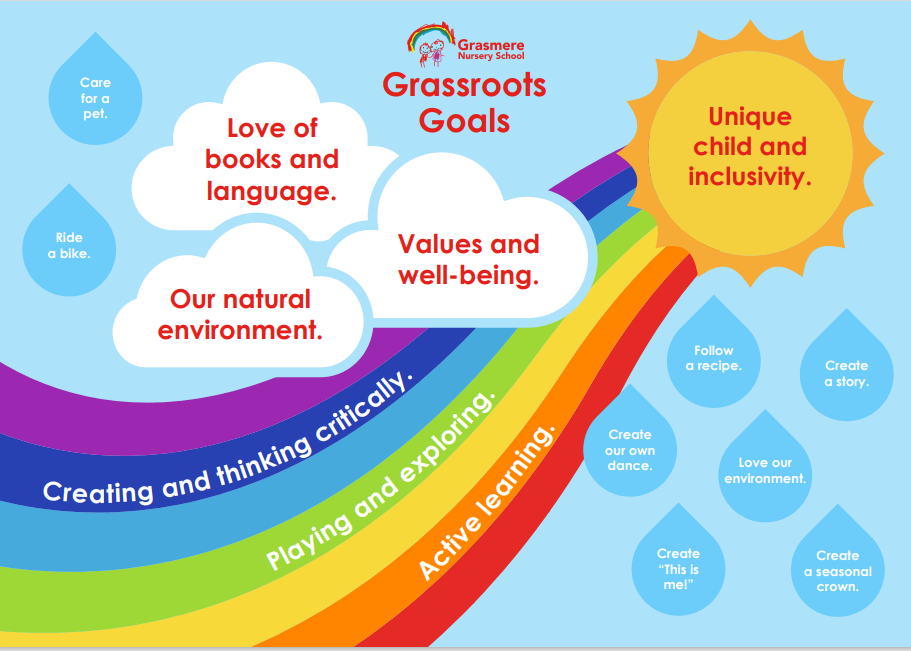 Our 'Grasmere Grassroot Goals' encapsulates what we believe is important to us as a school and what we want for all our children to experience whatever age or stage they are within their development. Our inclusive curriculum with a range of rich early experiences enables all children to achieve at their own rate.
Our bespoke and subsequent curriculum, states what we want children to know and learn by the time they leave us to begin their next stage in their educational journey.
The four cornerstones of our Grasmere Grassroots Curriculum are:
Inclusivity
Our Values
A Love of Books & Language
The Natural World
These are the tenets of our provision. You will see these elements clearly reflected within our plans and our practice.
OUR CURRICULUM
What is our intent?
We believe passionately in the importance of quality first teaching, in the provision of a broad curriculum, and rich early experiences, in providing an inclusive, safe and caring environment, and in having high expectations of all in our school community.
Our overarching aim is to provide a high-quality Early Years Education for all of our children, and through this, to give a solid foundation for a love of lifelong learning. We constantly strive to enable each child to fulfil their full potential, to thrive within society, and to contribute their own skills and talents to the service of others. We believe that "it takes a village to raise a child" and to this end we work closely with our families, with other schools and service providers to give each child the best possible start in life.
We believe that, when a child feels safe and valued, they will be able to thrive, and to this end, our provision is delivered by qualified and experienced teachers and educators, who focus on building strong, trusting and knowledgeable relationships with the children.